Groundwater Management Associates, Inc. (GMA) was founded by Dr. Richard Spruill in 1986 and incorporated in 1989. Today, GMA is a well-respected and successful hydrogeologic and engineering consulting firm with two offices in North Carolina. Our primary areas of expertise are the evaluation and development of groundwater resources, and the assessment and remediation of environmental contamination. GMA's senior staff provides high-quality litigation support and expert witness services for disputes involving environmental contamination and water resources.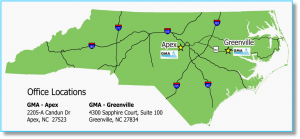 GMA's professional staff has approximately 300 years of combined experience, and includes eleven licensed professional geologists (PG), two professional engineers (PE), and technical and office support staff. Many of our staff are licensed as geologists or engineers in other states, including VA, SC, PA, FL, TX, KY, and KS. GMA has corporate licenses to practice engineering (Apex, NC #C-0854) and geology (Greenville & Apex, NC #C-121) in North Carolina. Four GMA staff are NC Certified Well Contractors, and two are Registered Site Managers (RSM) under NC's Registered Environmental Consultant (REC) Program for Inactive Hazardous Waste Sites (GMA is a REC).
GMA's Owners
Richard K. Spruill, Ph.D., P.G.
Principal Hydrogeologist / President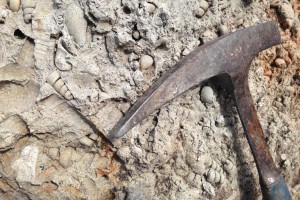 Dr. Spruill formed Groundwater Management Associates (GMA) in 1986, and he is GMA's principal hydrogeologist and president. He is a licensed professional geologist in North Carolina, he is past president of the National Board for the Association of State Boards of Geology (ASBOG), and he is past and current chairman of the North Carolina Board for Licensing of Geologists. Dr. Spruill is retired from the Department of Geological Sciences at East Carolina University after 39 years, and he was the Founding Director of ECU's Coastal Water Resources Center. Dr. Spruill has conducted and supervised numerous hydrogeological projects through GMA and ECU, and his accomplishments in the field of hydrogeology are extensive and well known in the state and region.
John J. Wise, P.E.
Principal Civil and Environmental Engineer / Vice President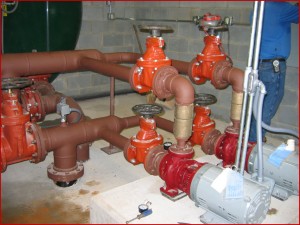 Mr. Wise is a principal with GMA and has 30 years of experience as a civil and environmental engineer. He is a licensed professional engineer in North Carolina, and he conducts or supervises all engineering work within the firm. Mr. Wise manages environmental remediation and water resources projects, and he has designed and supervised construction necessary for many projects, including groundwater extraction and treatment systems, subsurface ventilation systems, air sparging systems, water production and distribution systems, pipelines, water and wastewater treatment systems, waste disposal systems, and surface water drainage systems. He has prepared specifications and bid documents for groundwater and soil treatment facilities, water, sewer, and stormwater facilities, and gas pipelines. Mr. Wise is GMA's Chief Financial Officer (CFO).